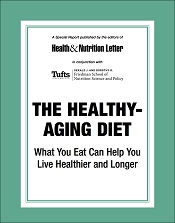 Get Your Copy of The Healthy-Aging Diet
An all-new report from the experts at Tufts' Health & Nutrition Letter. Discover the healthiest foods and diet plans that can help you lose weight, prevent type 2 diabetes, and more.
To help you choose food and drink that can improve your health, the editors at Tufts' Health & Nutrition Letter created an all-new report— The Healthy-Aging Diet, which is available to you at the lowest price you'll find anywhere.
Note: To keep you on top of advances in nutrition, we will reserve future annual editions for you on a priority basis and at our lowest price. We will notify you via postcard or email before the next annual report is released and shipped to you. If you don't wish to receive it, just reply within 30 days. You will also be able to review each future issue before deciding to keep it.