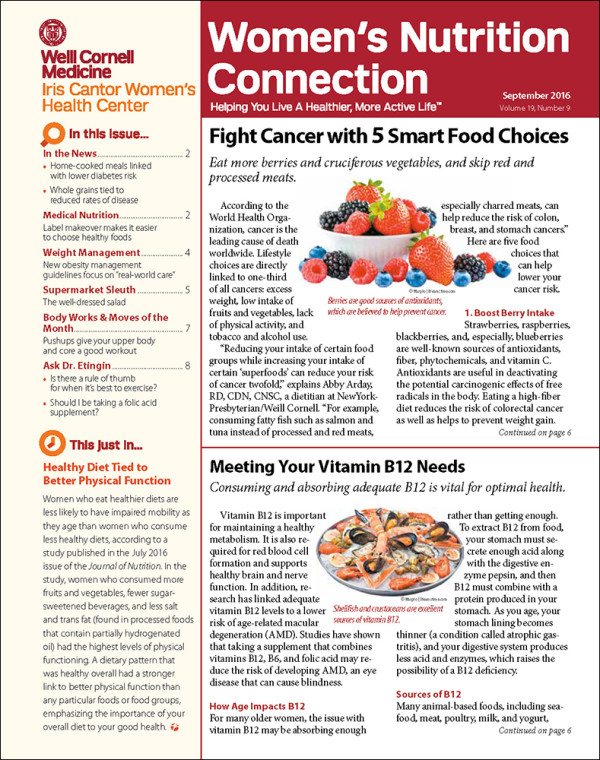 GET STRONG AND HEALTHY WITH
WOMEN'S NUTRITION CONNECTION
You know the important role certain foods play when it comes to how you look and feel and most important of all, how it can protect you from serious illness.
The problem is the 'right' foods and lifestyle choices seem to constantly change or are hard to pin down. You need a full-time doctor, nutritionist, personal trainer, plus an array of medical specialists just to keep up and make sense of it all.
And that's exactly what you'll find in WOMEN'S NUTRITION CONNECTION. This monthly newsletter from the prestigious Weill Cornell Medical College is written by top medical and fitness experts who hail from every vital discipline in women's healthcare. With your own personal team of healthcare professionals, you'll know how to eat right, get fit and stay healthy and strong for life.
You've probably noticed that there's often a significant delay between scientific breakthroughs and when the public gets the news. Now you don't have to wait for important findings to trickle down to the general media.
Even better, you don't have to figure out what your local newspaper or TV reporter is talking about – or wonder if they even got it right.
WOMEN'S NUTRITION CONNECTION closes the information gap. From the research lab to you – you get the latest and most reliable nutrition news.
PRICELESS INFORMATION FROM A TOP TIER INSTITUTION
Heart disease, cancer and stroke account for nearly 60% of all female deaths in the U.S. But there's so much you can do to swing the odds in your favor. Trust WOMEN'S NUTRITION CONNECTION to bring you specific recommendations on the health issues that concern you most…breast cancer, weight loss, menopause, high cholesterol, Alzheimer's disease, arthritis and more.
It's not just nutrition that leads to good health but exercise. WOMEN'S NUTRITION CONNECTION makes sure you pack the most fitness into the shortest time. We'll help you define specific goals – like losing weight or increasing flexibility. We'll even keep you motivated with proven tricks from top trainers.
It doesn't matter where you live. WOMEN'S NUTRITION CONNECTION gives you access to the latest research, the newest discoveries, and the valuable medical opinions of the top specialists in womens' health. For over a century, Weill Cornell Medical College has been a pioneer in healthcare especially for women. Let WOMEN'S NUTRITION CONNECTION from Weill Cornell Medical College be your source for a healthier you.
Please select your edition: