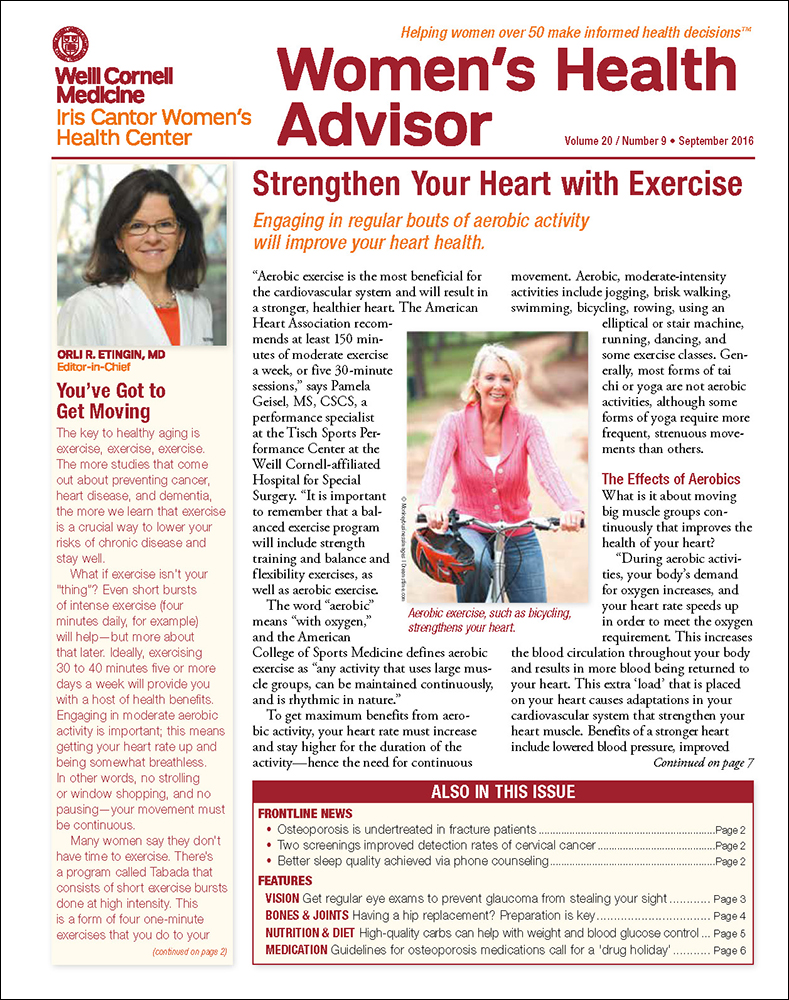 TRY WOMEN'S HEALTH ADVISOR RISK-FREE!
Men and women are different. You've known that since third grade! But what you didn't know then, and remarkably medical science is just beginning to discover, is that men and women don't just look different physically—their bodies actually react differently to diseases, medications, foods, medical tests and more.
Did you know, for example, that some traditional medical tests wrongly classified 98% of women as low risk for having a heart attack. Or that high triglyceride levels (bad blood fats) are more dangerous for women than men, but often get overlooked on tests. And complications from diabetes may be worse for women than men.
The list goes on and on. But now you can even your odds and help guarantee your good health with WOMEN'S HEALTH ADVISOR.
LIFE-SAVING MEDICAL ADVICE FOR WOMEN
The writers, researchers, doctors and scientists from the distinguished Weill Cornell Medical College read thousands of articles and medical studies, review promising research, breaking news and clinical trials from around the world each month to bring you life-saving news.
From their research and investigating, you'll learn such vital information as how to slash your chance of dying from cancer by 49%, 48 commonly prescribed drugs that either don't work or aren't worth the risks, and a common blood pressure drug that increases the risk for strokes.
You'll not only get the latest information concerning medical breakthroughs, prescriptions and natural remedies, but you'll also learn about the best food and nutrition for women. Did you know that there is a spice that stopped the spread of breast cancer cells in tests…and boosted the effectiveness of chemotherapy drugs? That 2 cups of tea a day may help protect you from cancer?
Each issue of WOMEN'S HEALTH ADVISOR is filled with health information you can use to help prevent, treat, heal and sometimes even cure the problems that concern you most.
WOMEN'S HEALTH ADVISOR will help you steer clear of unnecessary surgeries, low-quality medical tests, side-effect laden prescriptions and more that can put your health at risk. Start your subscription today.
Please select your edition: